NHWA Accreditation
Vermont Home Watch LLC is proud to be an accredited member of the NHWA. To become accredited, there's a strict checklist of requirements you must meet, including:
Licensing with our local town or municipality
We must have a liability insurance policy
We must be bonded
Furthermore, all accredited Members must have background checks. We also had to complete an NHWA member orientation. Member businesses must remain in good standing with the NHWA to maintain their annual membership.
When we first began looking for a business to start, a friend suggested we check out the National Home Watch Association (NHWA). We studied their website, watched some videos, and instantly got a sense of the high standards this organization sets for the Association and its Member businesses. We then scheduled a call with Jack Luber, the Founder and Executive Director of the NHWA. That call, along with many calls to other member business owners and approved vendors, continued to validate that the organization is well-run, with incredibly high standards. We wanted a blueprint for how to run a successful Home Watch business, and the NHWA provides the blueprint. 
Why is it important that you hire an accredited Home Watch business to keep an eye on your unoccupied home?
You can feel secure in knowing that the business you're hiring has the proper insurance and bonding to protect your assets
Accredited Members have been vetted and background checked
The business subscribes to the highest ethics in the Home Watch industry
In your absence, accredited Members will advocate for your best interests (see our services page for more information about what we do)
Hiring a business that is NOT accredited or insured offers no protection to the homeowner
In addition to being accredited, Vermont Home Watch is also trained as a Certified Home Watch Professional, which means that we have completed an accredited training curriculum by the NHWA. To maintain this certification we have to meet the required continuing education credits every two years and continue to pass the exam.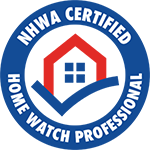 Charlie Posnick
#01230277