About Vermont Home Watch
We are your advocate, and we'll represent your best interests when you're not home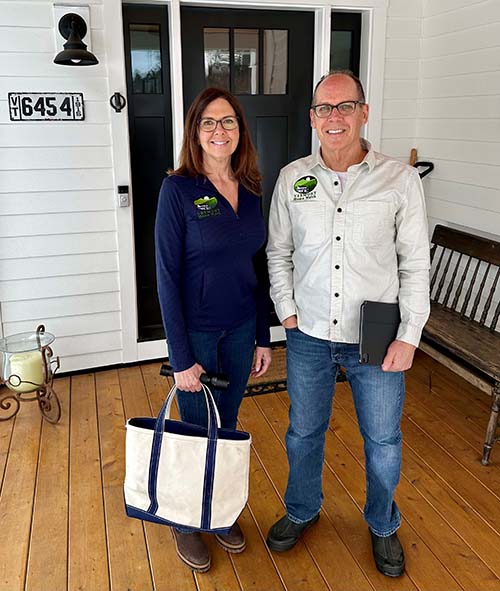 Kim Barone and Charlie Posnick
Owners of Vermont Home Watch
Charlie Posnick and Kim Barone started Vermont Home Watch after discovering that Vermont was the only state in New England without an accredited and certified Home Watch service. Kim is a native Vermonter and has enjoyed being a salon owner on an eight person team for almost 20 years, as well as having been a childbirth educator and substitute teacher. She has raised four children and now enjoys spending time with her seven, soon to be nine, grandchildren. 
At a young age, Charlie worked in his families retail business in Rhode Island, including conducting customer service training across seven retail locations. After graduating with a business degree from Northeastern University in Boston, Charlie has enjoyed a long career as a Quality Assurance Engineer, a carrer that requires organizational skills, attention to detail, teamwork and excellent people skills. Charlie has lived in Vermont for 15 years and spends his free time volunteering as a Guardian Ad Litem in the Family Division of Juvenile Court, representing the best interests of children involved in cases of neglect.
In 2020, Kim and Charlie (along with their Border Collie, Gracie) built a farmhouse on 10 acres in Jericho and enjoy maintaining their home and property, inside and out. They understand how a home is constructed, and what's required to care for and maintain it. When they're looking for a change of scenery, they enjoy adventure travel and sailing the Rhode Island coastline. They take pride in being the first accredited and certified Home Watch business in Vermont and would be honored to watch over your home when you can't be there. Check out our Services page for more about what we do.
Vermont Home Watch LLC is registered with the State of Vermont and licensed in Jericho. As an accredited member of the National Home Watch Association, we adhere to the highest standards and code of ethics in the Home Watch industry. Vermont Home Watch is bonded and insured for your protection and we are trained as Certified Home Watch Professionals.